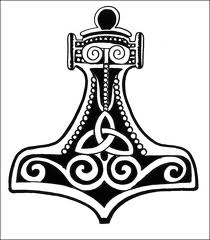 Introduction:
The Heathen path is a story of Origin, group creation and group division. Some will persist to lay claim to originality and solitary representative of the Norse tradition. Under the banner of "Heathenism" there lies a few individual paths and these are the Asatru, Odinism, Germanic Heathenism, Norse Shamanism, the Troth are the main ones that comes to mind. When looking at any path i look past the more modern day groupings that has developed and look at the origin, the template if you will that forms the basis of the Heathen following. i use the term Heathen quite loosely here and clearly indicate that with some the identification of Heathen is the only acceptable naming whereas others identify themselves as Pagan, or Shamanic, this topic will not be discussed on the page apart from the history of the Germanic / Norse following, unbiast and neutral in the spirit of unity among all paths in commonality.
General - Odinism - Asatru - Shamanic - Troth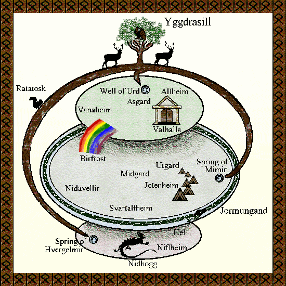 Mythical Objects and events
One of the jars filled with the mead of poetry.
Golden necklace given to Freyja by dwarfs.
Odin's golden ring which produced eight rings on every ninth night.
The three year winter that will preceed Ragnarok
Heimdall's horn.
Magical rope used to bind Fenrir.
Odin's spear.
Thor's hammer.
Ship made of dead men's nails. Will carry the giants to the final battle at Ragnarok.
Cauldron containing the mead of poetry.
The final battle between the Gods and giants. It will cause the destruction of the nine worlds.
Balder's boat. He and his wife Nanna were cremated in it.
Freyr's collapsible ship.
One of the jars containing the mead of poetry.
Torrment added to by the menstruation blood of the giantess Gjalp.
River of Fenrir's slobber.