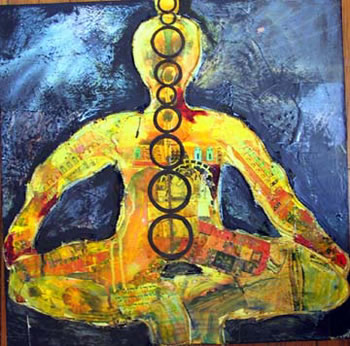 MEDITATION:
What is meditation:

For folks in the Western hemisphere, meditation is often seen as some sort of "new-age hippie" fad, something that you do right before you eat granola and hug a spotted owl. However, Eastern civilizations have known about the power of meditation and used it to control the mind and expand the consciousness.
Today, Western thinking is finally catching up, and there is an increasing awareness of what meditation is and what it can be used for. The benefits of meditation are mentioned not only by Wiccans and Pagans but by health practitioners and other everyday people.
How does meditation work:
The mind is made up of many facets, many of which we have not even begun to tap into. The conscious mind consists of all the things you're aware of on a daily basis: can I pay my bills? Does my lover still love me? Will my parents get sick? Did I forget to clean the cat box? There is also the subconscious mind – all the things you know, but don't know that you know. This is where things like memory and involuntary body functions come from. Finally, there is the part called the super consciousness, which is the higher self, the center of spiritual growth and well-being.
What happens in a meditation session:

Meditation allows you to focus on the subconscious and the super conscious minds. During a meditative session, you may find yourself meeting various archetypes, or encountering things that seem symbolic. This is your mind's way of telling you what's going on, and all you have to do is figure out how to interpret the message.
Guided meditations:
There are different meditation techniques, one of which is called guided meditation. In this technique, a guide – either in person or via a recording – leads the meditation, telling you where to go and what you see. They may include things such as, "You are walking down a path in the woods," or "There is a person coming towards you who holds something in her hand." For beginners, a guided meditation is excellent, because it provides a good idea of what meditation actually is, and allows you to center your focus. You can buy commercially produced guided meditation CDs, or you can create your own with a tape recorder.

Free form Meditation:

Free form meditation is one where there is no guide, and you simply let your mind wander. To do this, sit comfortably and allow yourself to relax as much as possible. Some people like to lie down when meditating, but others find that they fall asleep when they do so. Choose whichever method is best for you.

Mindfulness Meditation?

Mindfulness is a type of meditation that essentially involves focusing on your mind on the present. To be mindful is to be aware of your thoughts and actions in the present, without judging yourself.
Research suggests that mindfulness meditation may improve mood, decrease stress, and boost immune function.
How to Meditate

Meditation is one of the great secrets in life. If you're not already someone who meditates, give yourself a gift and learn how. You'll relieve stress, study better, and wonder how you ever got along without it.
Find a quiet place where you can be alone and undisturbed.
Sit upright on the floor or in a chair with both feet firmly planted on the floor.

Fold your hands with the tips of your thumbs touching lightly, or let your hands rest open and relaxed on your legs.

Close your eyes or focus softly on something about three feet in front of you on the floor.

Breathe deeply, and with every exhale, melt into the floor.

Focus on one image, one word, or a mantra. Some people use a candle flame, some a word that becomes a mantra. The idea is to focus your mind on one thing.

As other thoughts come into your mind, acknowledge them, let them go, and refocus your singular image or word.

Learning to meditate can be frustrating in the beginning. Most of us are not used to controlling our thoughts. It takes practice. If you stick with it, you'll find that it becomes easier and easier to stay focused on one single thing. This is incredibly healing and quieting. In time, you will find that answers to troubles come easier during or after meditation.
Mindfulness Meditation

How to Try Mindfulness Meditation

1. Find a quiet and comfortable place. Sit in a chair or on the floor with your head, neck and back straight but not stiff.
2. Try to put aside all thoughts of the past and the future and stay in the present.
3. Become aware of your breathing, focusing on the sensation of air moving in and out of your body as you breathe. Feel your belly rise and fall, the air enter your nostrils and leave your mouth. Pay attention to the way each breath changes and is different.
4. Watch every thought come and go, whether it be a worry, fear, anxiety or hope. When thoughts come up in your mind, don't ignore or suppress them but simply note them, remain calm and use your breathing as an anchor.
5. If you find yourself getting carried away in your thoughts, observe where your mind went off to, without judging, and simply return to your breathing. Remember not to be hard on yourself if this happens.
6. As the time comes to a close, sit for a minute or two, becoming aware of where you are. Get up gradually.
Sources:

Kabat-Zinn J. Mindfulness Meditation: Health benefits of an ancient Buddhist practice. Mind/Body Medicine, eds. Goleman D, Gurin J. New York 1993. Consumer Reports Books, 259-275.
Breathing Meditations
Generally, the purpose of breathing meditation is to calm the mind and develop inner peace. We can use breathing meditations alone or as a preliminary practice to reduce our distractions before engaging in a Lamrim meditation
A Simple Breathing Meditation

The first stage of meditation is to stop distractions and make our mind clearer and more lucid. This can be accomplished by practicing a simple breathing meditation. We choose a quiet place to meditate and sit in a comfortable position. We can sit in the traditional cross-legged posture or in any other position that is comfortable. If we wish, we can sit in a chair. The most important thing is to keep our back straight to prevent our mind from becoming sluggish or sleepy.

The first stage of meditation is to stop distractions and make our mind clearer and more lucid.

We sit with our eyes partially closed and turn our attention to our breathing. We breathe naturally, preferably through the nostrils, without attempting to control our breath, and we try to become aware of the sensation of the breath as it enters and leaves the nostrils. This sensation is our object of meditation. We should try to concentrate on it to the exclusion of everything else.

At first, our mind will be very busy, and we might even feel that the meditation is making our mind busier; but in reality we are just becoming more aware of how busy our mind actually is. There will be a great temptation to follow the different thoughts as they arise, but we should resist this and remain focused single-pointedly on the sensation of the breath. If we discover that our mind has wandered and is following our thoughts, we should immediately return it to the breath. We should repeat this as many times as necessary until the mind settles on the breath.

Benefits of Meditation

If we practise patiently in this way, gradually our distracting thoughts will subside and we will experience a sense of inner peace and relaxation. Our mind will feel lucid and spacious and we will feel refreshed. When the sea is rough, sediment is churned up and the water becomes murky, but when the wind dies down the mud gradually settles and the water becomes clear. In a similar way, when the otherwise incessant flow of our distracting thoughts is calmed through concentrating on the breath, our mind becomes unusually lucid and clear. We should stay with this state of mental calm for a while.

Even though breathing meditation is only a preliminary stage of meditation, it can be quite powerful. We can see from this practice that it is possible to experience inner peace and contentment just by controlling the mind, without having to depend at all upon external conditions.
So much of the stress and tension we normally experience comes from our mind

When the turbulence of distracting thoughts subsides and our mind becomes still, a deep happiness and contentment naturally arises from within. This feeling of contentment and well-being helps us to cope with the busyness and difficulties of daily life. So much of the stress and tension we normally experience comes from our mind, and many of the problems we experience, including ill health, are caused or aggravated by this stress. Just by doing breathing meditation for ten or fifteen minutes each day, we will be able to reduce this stress. We will experience a calm, spacious feeling in the mind, and many of our usual problems will fall away. Difficult situations will become easier to deal with, we will naturally feel warm and well disposed towards other people, and our relationships with others will gradually improve.